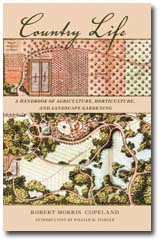 Publisher:
University of Massachusetts Press
cloth, 912 pp., $49.95
This reprint of the sixth edition of a classic volume, written by Robert Copeland (1830–74), was originally published in 1866. It presents a comprehensive examination of agricultural and horticultural practices in the nineteenth century. An introductory essay by landscape architect William Tishler provides insight into the character and achievements of Copeland, a pioneer in landscape design and city planning. Espousing scientific farming methods, Copeland uses a calendar format in his instructions to an average farmer of 60 acres, describing best practices in horticulture, agriculture, and landscape gardening. However, Copeland's topics are much more far-reaching as his interests turn from the farm to ornamental grounds and urban areas. Much of Copeland's information is based on the accumulated knowledge of respected experts, as well as his own experiences. Throughout the text Copeland expresses his appreciation of the character of the farmer close to nature who treats his land and environment with respect.
— Marilyn K. Alaimo, garden writer and volunteer, Chicago Botanic Garden