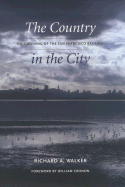 Publisher:
University of Washington Press
paper, 378 pp., $24.95
In this environmental history of the city by the Bay, educator and environmentalist Richard Walker recalls the efforts of citizens to create a green landscape in open space. Beginning in the 1890s with the activities of John Muir — who inspired city leaders to form the Sierra Club — Walker traces the many problems — environmental, social, political, etc., that led to the occasional conflicts in society as citizens sought to preserve and create green areas for public use.  This scholarly perspective to the environment considers local and regional issues ranging from the addition of parks to problems of pollution. According to the author, though invisible in traditional environmental history, women were prominent in all levels of the movement. Documented with maps and photographs, the text has extensive reference materials.
— Marilyn K. Alaimo, garden writer and volunteer, Chicago Botanic Garden