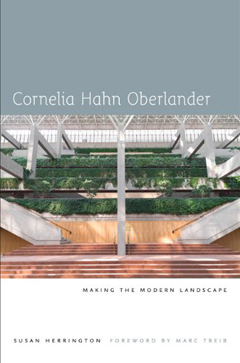 Publisher:
University of Virginia Press
Cloth, 272 pp., $39.50.

What a wonderful discovery it was for me to read about this amazing woman, Cornelia Hahn Oberlander. Often considered one of the most influential landscape architects in the last 60 years, she is not widely known outside her field. Her life story in itself is interesting, beginning in Germany in 1921, influenced by her mother who was a horticulturist, and fleeing with her family in 1939 to Rochelle, New York. The family later moved to Wolfeboro, New Hampshire where Oberlander helped her mother on the farm. She was fortunate to be able to enroll in Smith College as an interdepartmental major in Architecture and Landscape Architecture. At Smith one of her classmates was Betty Friedan, whose dorm room was across from Oberlander's. After Friedan and her friends had kept others awake with their noisy debating, "Oberlander pounded on Friedan's door and yelled, 'If you have a profession, just get to work.'" (p. 18) 

There are a number of landscape site plans throughout the book, along with photographs of her finished projects. She was especially inventive in creating play spaces for children, or what are referred to as "creative environments for play" (p. 101). Oberlander was chosen to design an outdoor play area at Expo 67 in Montreal and the design process, landscape strategy and reception of the public for this playground are all described in detail. The spinning seesaw which she invented combining a seesaw and merry-go-round was only one of her many ingenious ideas. She has been an advocate for sustainable design but never neglects the human element in her projects. Herrington describes the "unexpected symmetry" to Oberlander's life when she was chosen to be one of the architects to design the Canadian Embassy in Berlin (p. 222). Herrington gives the reader wonderful insight into the life and mindset of this remarkable woman. - Joan Richards, volunteer, Chicago Botanic Garden.