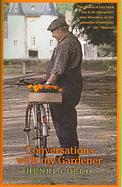 Publisher:
Granta (distributed by Trafalgar Square, North Pomfret, VT)
paper, 202 p., $13.95
The seemingly idle chatter between an artist and his gardener appears at first mundane, yet it seizes the reader's attention, just as actors on a stage fascinate their audience. The setting for the conversations is the artist's studio and garden in the French countryside. This work by Henri Cueco, translated by George Miller, has captured the interaction between two aging friends who have different perspectives on the world. As the artist draws the beauty found in the simplest forms, the gardener speaks about his life, his family, his travels, and — as they grow older — about death. Occasionally humorous, his prattle often expresses great insight in the simplest terms. His words are not the witty bons mots of a sophisticated Frenchman, but the uncomplicated words of a gardener who has experienced life and finds beauty in a head of lettuce.
— Marilyn K. Alaimo, garden writer and volunteer, Chicago Botanic Garden