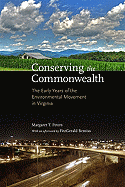 Publisher:
University of Virginia Press
cloth, 133 pp., $27.95
After first recalling the early attitudes of its citizens toward the natural resources of this state, historian Margaret Peters summarizes the early evolution of the environmental movement in Virginia, a land that was "blessed with some of the most beautiful natural and historic resources in the nation." Tracing the beginning of this interest to a 1960 meeting of a group of citizens who founded the Virginia Chapter of the Nature Conservancy, she documents the roles of those powerful advocates, both individuals and groups, responsible for bringing conservation to the forefront as accepted policy in the state. The text also brings attention to the need for further efforts in this direction because of continuing threats to the environment. This book is essential reading for those with interest in preserving Virginia's wealth of natural and historic beauty.
— Marilyn K. Alaimo, garden writer and volunteer, Chicago Botanic Garden