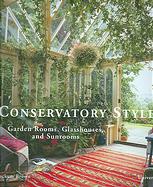 cloth, 192 p., $39.95
Beginning in the sixteenth century, the introduction of tropical plants into temperate climates made necessary the protection of these tender exotics, a requirement that still exists today. The earliest structures built to house such plants were called orangeries, named for the citrus fruit they contained. These have evolved into contemporary conservatory structures of different forms.
In his book Conservatory Style: Garden Rooms, Glasshouses, and Sunrooms, British author Jackum Brown divides them into three basic types: the garden room, a separate structure or extension attached to a residence; the glasshouse, a free-standing building; and the sunroom, a garden space within a building. In this practical, gorgeously illustrated guide, the text covers locating and constructing the conservatory, selecting the materials, decorating, adding water features and much more. In addition, the author provides a list of suitable plants and a directory of suppliers in North America. This text is essential reading for those who wish to welcome the garden indoors.
— Marilyn K. Alaimo, garden writer and volunteer, Chicago Botanic Garden