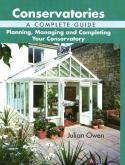 cloth, 175 p., $35.00
Popular home additions in the U.K., conservatories are perfect places for both people and plants at all times of year because they provide protection from the elements. Unlike greenhouses, where plants are propagated and grown as crops, conservatories are essentially rooms with delicate plants that are selected and placed on the basis of creating an aesthetically pleasing living space for people.
British architect Julian Owen has done a masterful job in this comprehensive discussion of such structures, listing both the positive and negative aspects of conservatory additions. Besides relating the rationale for such investments, he debunks many of the myths about conservatories, such as the 'ideal siting,' and lists several alternatives to a conservatory. The photographs of different styles of structures in his review of conservatory design are inspirational. He takes the reader through various options and discusses selection and placement of furnishings as well as structure maintenance. Although the sections on dealing with local authorities and the list of suppliers may not apply to U.S. residents, the rest of the contents contain vital information for those contemplating any type of garden structure on any size budget.
— Marilyn K. Alaimo, garden writer and volunteer, Chicago Botanic Garden