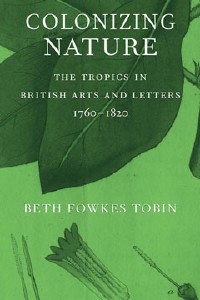 Publisher:
University of Pennsylvania Press
paper, 255 p., $55.00
Examining eighteenth- and nineteenth-century English literature and the arts in this publication, educator Beth Fowkes Tobin theorizes that these forces were responsible for the British belief that tropical lands were a paradise that required British management. Influenced by the poetry, art, and unrealistic narratives of travelers, the British pursued a colonization policy that was blind to reality, founded on their belief of the superiority of British upper classes over native populations, and based on the enslavement of the peoples of tropical lands.
The author uses examples of poetry, genre and landscape paintings, natural history writings, and botanical prints as case studies in support of her hypothesis. For example, she points out that figures and landscapes were romanticized or spiritualized. Natural history writings were revised to conform to the style of literature expected by an educated audience; facts were laundered in order to meet with expectations and standards. By circulating illustrations of tropical specimens, botanists piqued the curiosity and interest of a competitive segment of society, encouraging them to support plant exploration and colonization efforts.
Tobin has some intriguing arguments on biased reporting and its effects. Due to her literary style, this technical publication will likely be of interest to a limited readership of scholars interested in the history of British colonies and literature during the eighteenth and nineteenth centuries.
— Marilyn K. Alaimo, garden writer and volunteer, Chicago Botanic Garden