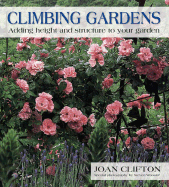 paper, 141 p., $19.95
In her introduction, Joan Clifton points out that "a garden should be a three dimensional space filled with color, texture, and dynamic form which you can walk through, look at, and feel." Climbing Gardensexplores in depth the way a gardener can achieve this. There are practical suggestions that will encourage an imaginative approach to garden design. For it is by adding height, structures and support for climbing plants that a dull space can be instantly transformed into one with vitality and style.
The book has been organized into sections on styles, both formal and informal. Different structures made of an infinite variety of materials turn functional needs into visual advantages. Screening panels and fences, which incorporate the need for enclosure, both for privacy and to demarcate different areas of a garden, are presented in detail. The author cautions that permanent plant supports take on important architectural roles and should be built with conviction. Simple designs work best and allow easy access for pruning and training of plants. Included in this section is a detailed design for a wooden obelisk complete with how-to-do photographs and measurements. In the section on more informal structures, willow stems form a 'living' arbor, as the stems will root easily in moist soil.
It is in the section on urban spaces that the author's suggestions for creating privacy are particularly intriguing and original. Details for building spiral structures that provide support are both whimsical and practical and there are exciting possibilities in the use of metal, plastic and glass.
There is also an unusual section on the 'potager' garden, where fruit and vegetables are produced in profusion using sturdy supports. Tomato varieties can grow to some height on a single stem tied to a cane or stake.
In the conclusion of the book the author describes the astonishing choice of plants available and recommends perennials, annuals, and herbaceous material, vegetables and fruit. The photographs in this book are particularly attractive and should encourage gardeners to experiment with the techniques described in the book.
— Bluma Kaplan, volunteer, Chicago Botanic Garden