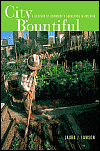 Publisher:
University of California Press
paper, 363 p., $21.95
Anyone who has been involved with a community garden will relate to this historical overview of the subject by landscape architect Laura Lawson, an experienced coordinator of urban projects. Even though urban gardening programs in the United States have been around since the 1890s, their popularity has waxed and waned significantly. The author relates the factors that must be considered when sponsoring a joint project, not least among them perseverance of participants, perception of a project's purpose, and politics. She suggests various strategies to employ when leading a program, citing examples from notable past horticultural pursuits and her own experience.
— Marilyn K. Alaimo, garden writer and volunteer, Chicago Botanic Garden