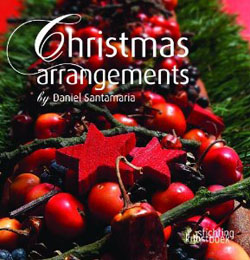 Decorated boards, 120 pp., $39.00.

It's never too early to think about holiday arrangements, especially when they are creative and imaginative. Santamaria is exceptionally talented in combining unusual materials, such as pine wood, long pine needles, and tall, thin candles, to create unexpected colors and arrangements with plants, such as orchids. His style is tasteful and subdued. Evergreen wreaths, festive garlands, and table pieces may seem like usual holiday fare, but Santamaria's artistry gives all of them a twist that will keep you enticed as well as eager to experiment. The materials are listed for each design; however, some may not be available locally so substitutions will be part of your creativity. This book is a must for any flower arranger's library, as a source of inspiration and ideas for many holidays.
-- Adele Kleine, volunteer and garden writer, Chicago Botanic Garden.