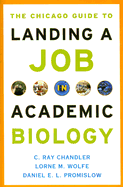 Publisher:
University of Chicago Press
paper, 150 pp., $14.00
Searching for a job in academia is the topic of this informative guide for those in the field of biology. The authors, with long experience in selecting and directing candidates for posts in the academic world, identify the many factors that affect successful performance. Beginning with the general costs and benefits of academic life, the authors assist the reader in sorting out various areas of scholarship, as well as the skills and career training needed for a well-prepared resumé that will elicit a coveted job offer. They offer practical advice with a sense of humor, covering such topics as dress and behavior in interviews, negotiations, social events, and other occasions that tend to challenge some job candidates.
— Marilyn K. Alaimo, garden writer and volunteer, Chicago Botanic Garden