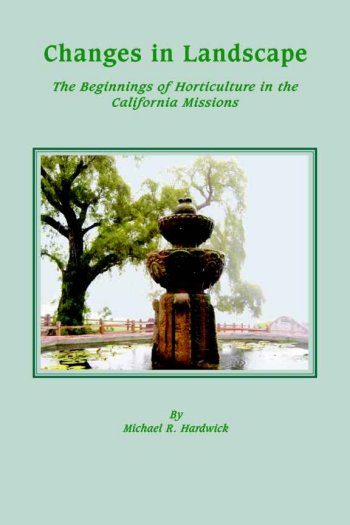 paper, 143 p., $15.00
With the advent of the Spanish missionaries, the ecosystem of California changed significantly. Native Americans' farming practices consisted primarily of gathering wild plants and regularly burning the landscape to rejuvenate it. The missionaries introduced new agricultural methods and crops that gave a more varied diet, yet depended on more intensive labor by the people they came to convert. Author Michael Hardwick hopes to save the horticultural legacy of these California missions, and he reports about evidence he has found in old records of what was grown at these old missions and the bounty of plants introduced by the missionaries. When agricultural land was divided into individual holdings or ranchos, following the Secularization Act of 1883, horticulture became less important to the economy and only remnant plantings serve as reminders of the heritage.
A primary source of documentation for each mission story was the interesting correspondence of visiting clergy and government officials to superiors. They disclosed more about these missions than the resident Padres who reported on yearly crop yields. Accompanying the text are old photographs and drawings of missions and their landscape features, as well as of the people connected with the founding of the Alta California missions. To encourage restoration projects at these historic sites, the author has included some practical information in the detailed appendix; there is a listing of heritage plants, a report on a heritage restoration project, and a valuable bibliography. This book is a fine example of dedicated research and a valuable guide to sources of historic documentation.
— Marilyn K. Alaimo, garden writer and volunteer, Chicago Botanic Garden