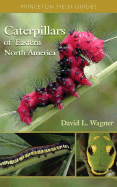 Publisher:
Princeton University Press
paper, 512 p., $29.95
Caterpillars are fascinating creatures. The larvae of moths and butterflies, they are shy, often hiding on the underside of leaves, yet they indirectly influence our lives in their role as predators of the plants around us. In order to protect themselves from these zealous "eating machines," plants produce defensive chemicals, creating compounds that enrich our lives as medicines, spices, and other products, such as rubber. This comprehensive field guide contains full-color photographs and profile descriptions of 383 butterflies and moths, with additional information on 210 species that can be found in Eastern North America. Each profile provides information on coloration, where it may be found, common food plants, and general remarks on habit. In the introductory section, the author covers morphology, life cycle, where and when to search for caterpillars, and how to collect and care for them for educational projects. Its pocket size makes this an ideal companion for field trips. It is perfect, too, for the home gardener who is curious to identify these common backyard visitors. The cross-reference index of food plants provides an easy means of recognizing the predator caterpillar.
— Marilyn K. Alaimo, garden writer and volunteer, Chicago Botanic Garden