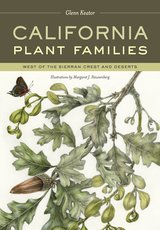 Publisher:
University of California Press
ISBN:
University of California Press
paper, 215 pp., $27.50
In response to increasing public interest for more information about the native plants in the state, California plant specialist Glenn Keator has compiled an invaluable guide to the identification of the diverse native and naturalized vascular plant families in the region west of the Sierran Crest and Deserts, the so-called California Floristic Province. The text is organized by plant families, which are keyed so that the reader may become acquainted with the arrangement of plant relationships and familiar with notable characteristics. Each profile denotes common characteristics, vegetative features, flowers, and parts. The artwork of Margaret Steunenberg captures plant habits, leaves, flowers and fruit in accompanying sensitive line drawings and in an illustrated glossary.
— Marilyn K. Alaimo, garden writer and volunteer, Chicago Botanic Garden