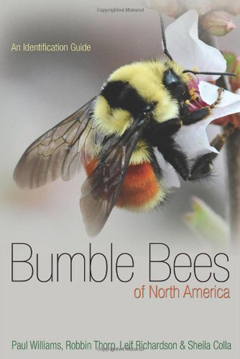 Publisher:
Princeton University Press
Paper, 208 pp., $24.95.

This comprehensive study of bumble bees may well have far more information than the average reader would need to know about these amazing pollinators. But for anyone seeking detailed scientific data on the genus Bombus this book provides all you need arranged in an accessible way. With the present decline in the populations of bumble bees, learning more about this important link in our ecosystems and what factors account for this decline could lead to necessary conservation measures. This book is very well organized to identify various species with close-up photographs, both hand and microscopic identification characters, color pattern diagrams, range, habitat, and behavior. The beautiful photographs allow you to see body parts in detail to aid in identification. An interesting note is the behavior of males, most of which "patrol circuits in search of mates." However, there are several species who perch and chase moving objects in search of mates and Bombus griseocollis has "even been found near the top of the Empire State Building." (p. 125) Perhaps my favorite scientific name is Bombus perplexus, or "Confusing Bumble Bee." (p. 64)  I don't plan to do any hand identification of bumble bees, but certainly appreciate their diversity after reading this book. - Joan Richards,  volunteer, Chicago Botanic Garden.