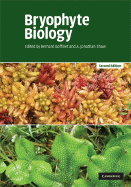 Publisher:
Cambridge University Press
paper, 565 pp., $70.00
In this updated edition of a comprehensive work on hornworts, liverworts, and mosses, recognized as "the earliest lineages of land plants derived from green algal ancestors," biologists Bernard Goffinet and Jonathan Shaw present contributors' studies, revised classifications, and new chapters that contain an overview of recent research in the field, including an important chapter on desiccation tolerance of bryophytes. The editors still retain their goal of providing both a text for advanced studies and a reference for scientists in the field. Technical graphics, tables, and black & white illustrations accompany the text.
— Marilyn K. Alaimo, garden writer and volunteer, Chicago Botanic Garden