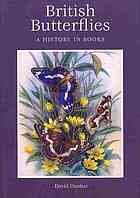 cloth, 176 pp., $75.00
This work is a comprehensive bibliographic history of British works on butterflies. The hefty price tag is due to the wealth of color figures and plates reproducing illustrations from a variety of books. These graphics certainly make this book a delight to read.
The first section of the book describes some of the earliest British books dedicated to butterflies. The second section treats books from the golden age of exploration and discovery in the seventeen and eighteenth centuries, providing a history of famous lepidopterists and illustrators. Section three examines works published in the nineteenth century, with a separate chapter on books aimed at children. The fourth section deals with books published in the last century, with an emphasis on conservation. The last section treats the symbolic role of butterflies. I found this a charming history, especially the descriptions of Victorian books for children such as Silver Wings and Golden Scales.
— Joan Richards, volunteer, Lenhardt Library, Chicago Botanic Garden