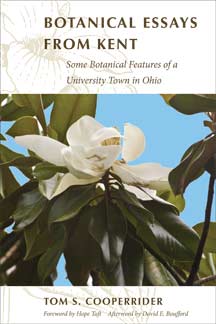 Publisher:
Kent State University Press
Cloth, 89 pp., $16.95
In this slim volume, the reader will find personal reflections based on Cooperrider's 50 years of experience, including his help in declaring the Kent Bog a protected site and his love of and involvement in local natural history. To some, Kent State is associated with tragic student unrest decades ago. Now, spread across a hillside, is a botanical memorial of 58,175 daffodils, commemorating the lives of American servicemen lost in the Vietnam War. During that same era, botanists witnessed the rise of the environmental movement and a new concern for plants and animals.
The local Ohio flora, herbarium, and the Kent Bog are described along with photographs, making this a readable book and a contribution to a very specific botanical history.
— Adele Kleine, volunteer and Master Gardener, Chicago Botanic Garden and writer, 
Chicagoland Gardening magazine