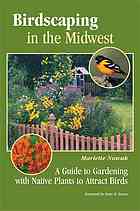 Publisher:
University of Wisconsin Press
paper, 336 pp., $34.95
Bird habitat restoration in the home garden is the theme of this handbook by a bird lover and former director, now retired, of the Wehr Nature Center in Milwaukee, Wisconsin. The author explains the importance of creating a garden with native plants that provide food and shelter for birds and animals. Using case studies—stories of native bird habitats created in various sites, ranging from small city lots to farm fields—Nowak provides photographs and landscape plans to demonstrate the development of suitable environments in different situations. She points out the needs of specific birds and how to attract them to a site. She encourages readers to design homes for a particular species of bird or groups of birds in order to "ensure that your yard provides these particular birds with the essentials they'll need for their survival, generation after generation." Easy to read, this book is highly recommended for its detailed information on a range of subjects relating to birds in urban settings.
— Marilyn K. Alaimo, garden writer and volunteer, Chicago Botanic Garden.