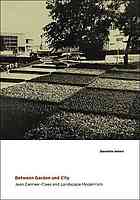 Publisher:
University of Pittsburgh Press
Cloth, 277 pp., $55.00
Belgian landscape architect Jean Canneel-Claus (1909–89), an advocate of the modernist movement in landscape design, is the subject of this biography by landscape architect and educator Dorothée Imbert. She examines his background, professional training, and influences on his work. The author also describes the effects of his changes in perspective on the character of the landscape, his private and public projects, and the impact of Nazi occupation on urbanism. Canneel-Claes was dedicated to furthering the cause of modernism among landscape architects and city planners, as he "stressed the importance of landscape to shape the urban and rural territory." This gem of a book is wonderfully illustrated with rare archival photographs and landscape plans.
— Marilyn K. Alaimo, garden writer and volunteer, Chicago Botanic Garden