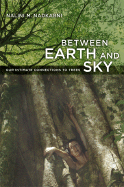 Publisher:
University of California Press
cloth, 322 pp., $24.95
As a renowned tree climber and biologist, Nalina Nadkarni has studied the canopy of forest trees on four continents in her scientific forays, so her perception of their value to humankind is thoughtful and wide-ranging. In a mixture of scientific facts, personal stories, and poetry, she leads the reader through the fundamental characteristics that define a tree and tells of the tree canopy ecosystem. Occasionally illustrated with photographs, the narrative emphasizes the importance of trees, describing all the products and services, including shelter to flora and fauna. She speaks of their spiritual meaning and the connections of trees and people. Even though readers are encouraged to plant trees, they are warned of the invasive nature of alien species. Concluding the work, Nadkarni sums up her thoughts: "Trees are complex, beautiful, fragile, and strong. Because of these characteristics, I think of them as ambassadors for the rest of nature."
— Marilyn K. Alaimo, garden writer and volunteer, Chicago Botanic Garden