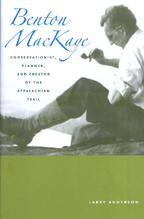 Publisher:
Johns Hopkins University Press
paper, 452 pp., $30.00
In this biography of conservationist Benton MacKaye (1879–1975), author Larry Anderson traces the long life story of a pioneer in the conservation and regional planning of American forests. A product of an unstable home and son of a feckless father, the youthful MacKaye found solace in treks through local forests. Determined in his formative years that he wanted to make his mark on the world, he did this with a missionary zeal through his efforts in the emerging movement to preserve America's woodlands. As the result of meticulous research, Anderson describes each step in the MacKaye's career. These include reviews of his numerous publications, his relationships with influential persons, and involvement in liberal organizations of the period. After the tragic death of his wife, MacKaye focused on the establishment of the Appalachian Trail. He was also a co-founder of the Wilderness Society, linking recreation to the forest preservation movement.
— Marilyn K. Alaimo, garden writer and volunteer, Chicago Botanic Garden