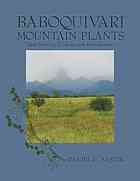 Publisher:
University of Arizona Press
Cloth, 335 pp., $79.95
Botanist Daniel Austin tells of the great diversity of flora in the Baboquivari Mountains, a region noted for its distinctive habitats. The region is between Chihuahua and Sonora, southwest of Tucson, in south-central Arizona. Austin's descriptions of 3,000 plants includes the identification, ecology, and etymology of plant names in European and Native American languages. Reporting on how plants have been used by humans, the author relates their influence on the region. The book contains an extensive appendix of the plants of this mountain chain, as well as a comprehensive directory of the references cited in the work.
—Marilyn K. Alaimo, garden writer and volunteer, Chicago Botanic Garden