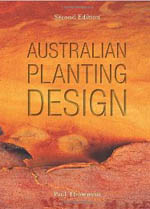 paper, 211 pp., $44.95
Following in the steps of American landscape architect O.C. Simonds and landscape gardener Jens Jensen more than a century ago, Australian landscape architect and consultant Paul Thompson proclaims the value and logic of working with indigenous plants when planning gardening schemes. He reports that more native plants are now available, allowing Australians to develop an urban landscape that belongs to the land and its history more easily. "Plantings are becoming more suitable to the environment of tomorrow." This theme is developed throughout this work, beginning with a discussion of the various components of a garden: space, light, earth, water, hardscape, and vegetation. His thoughts then turn to planting design and selection. A series of photographs are helpful guides to urban gardens that incorporate native plant and design, concepts both historical and forward-thinking. Gardeners living in regions where environmental changes are anticipated will find this book particularly valuable.
— Marilyn K. Alaimo, garden writer and volunteer, Chicago Botanic Garden.