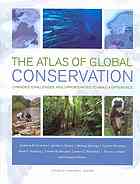 Publisher:
University of California Press
Cloth, 234 pp., $49.95
In this guide to current environmental conditions around the world, scientific authorities from the Nature Conservancy, an organization working to protect ecologically important lands, have gathered together the latest data on our home planet. The essays in this atlas begin with a summary of conditions that affect biodiversity in particular regions. They contain an extensive collection of colorful maps, which portray the land and marine environments. The next section covers the range of habitats and the challenges to their ecosystems. This is followed by a discussion of species and the efforts in promoting livelihoods through saving nature. Continuing on the theme of saving the planet, there are essays on the changes affecting world conditions: human population explosion; climate change, coastal development, and freshwater pollution to name a few. The book concludes with a survey of the activities that strive for conservation of the Earth's resources and an encouraging note that mankind has the opportunity to take positive action to shape the future of the planet through better informed choices.
—Marilyn K. Alaimo, garden writer and volunteer, Chicago Botanic Garden