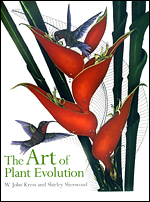 Publisher:
Kew (distributed by the University of Chicago Press)
Paper, 320 pp., $41.00
This volume is a celebration of the marriage of plant evolution and art. Eighty-four artists depict in 136 paintings the botanical relationships between plant forms as identified by the most recent research, such as DNA sequencing. In the introduction, distinguished botanist W. John Kress analyzes these evolutionary relationships and the current classification of major plant groups. Art expert Shirley Sherwood (who selected the art) describes the backgrounds of individual artists and the significance of each beautiful painting.
— Marilyn K. Alaimo, garden writer and volunteer, Chicago Botanic Garden