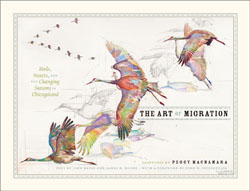 Publisher:
University of Chicago Press
Cloth, 202 pp., $25.00.

This is an exceptional book. Peggy Macnamara's drawings are studies of the subject with the background often sketched in in an ethereal manner, making the whole subject come alive, whether it is birds, butterflies, or other insects. Macnamara has been associated with the Field Museum in Chicago, along with two associates, John Bates and James H. Boone, who contributed to this text, resulting in a scholarly yet accessible work. Her seasonal approach to the subject makes it easy to look up specific content, using this book like a field guide. 
-- Adele Kleine, volunteer and garden writer, Chicago Botanic Garden.