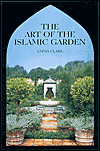 cloth, 208 p., $50.00
Author Emma Clark, an English Muslim who teaches about Islam and Islamic civilization, concentrates much of her text discussion on the connection of the teachings in the Koran (Quran) to traditional Islamic garden design. She dwells on the history, philosophy, and symbolism of that civilization and advises that the formal Islamic garden style (charhar–bagh) that is divided into four parts by cross-axial water channels is a testimonial to the importance of principles found in the Koran. She cautions that unless there is a thorough understanding of the spiritual meaning of these traditional principles, a garden's designer should not attempt to replicate an Islamic garden, for every element bears significance.
After an introduction on symbolism, the author guides the reader through a design and its implementation in a home garden, using examples of famous Islamic gardens as illustrations. Although the lighting and size of some photographs lessens their effectiveness as illustrations, the photographs themselves enhance the instructive text. Besides the reader who is interested in this style of gardening, travelers to the sites illustrated will gain greater insight from her information. Using the Carpet Garden at the home of the Prince of Wales as a case study of an Islamic style garden set in a temperate climate, the author details how traditional principles can be incorporated into a contemporary landscape.
Her thought-provoking text may raise questions in the minds of those unfamiliar with the culture, because of the use of euphemisms in her descriptions. Otherwise, Clark has skillfully succeeded in interpreting the art of the Islamic garden for readers. She goes beyond this goal by teaching the application of the art form from hot, dry countries to sites in temperate climates where garden development is challenged by the wet and cold weather. The book is highly recommended as an excellent guide to the theory and practice of the Islamic gardening style.
— Marilyn K. Alaimo, garden writer and volunteer, Chicago Botanic Garden