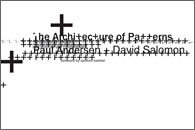 paper, 142 pp., $24.95
Patterns are found everywhere, forming relationships that may not have existed previously. The authors contend that patterns have been relatively neglected by architects in their planning even though they add order to the universe, "integrating sensory, organizational, operational, structural and environmental domains in a complex unity." Paul Andersen and David Salomon make their points through text and graphics. Readers may find many of the illustrations in this book distracting and unusual, but the authors' arguments are interesting.
— Marilyn K. Alaimo, garden writer and volunteer, Chicago Botanic Garden.