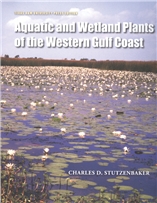 Publisher:
Texas A&M University Press
paper, 465 pp., $40.00
Recognized for his expertise as a wildlife biologist, Charles Stutzenbaker shares his knowledge of the vegetation of the wetland environment along the western Gulf Coast as a guide for those responsible for its care and perpetuation. Following an introduction in which the author defines the geographic range of his research, taxonomy, and other factors, there is a directory of plant descriptions. Arranged by growth characteristics, the text covers each plant's habitat, wildlife values, propagation, management, and similar species for comparative identification. Illustrations that include sizable drawings and photographs are particularly useful in fieldwork. The concluding pages contain a glossary and a table with plant listing according to the wetland indicator categories. This handbook is highly recommended for both professionals and those interested in the region's vegetation.
— Marilyn K. Alaimo, garden writer and volunteer, Chicago Botanic Garden