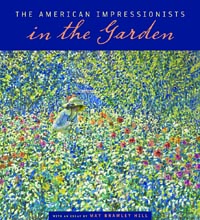 Publisher:
Cheekwood Botanical Garden & Museum of Art and Vanderbilt University Press
Paper, 126 pp., $29.95
In this catalog for an exhibit of American Impressionists at the Cheekwood Botanical Garden & Museum of Art, May Brawly Hill recalls the factors that led to the development of connections between American artists, the Impressionistic movement, and the old–fashioned, informal garden as sites for their paintings. At the forefront of the French Impressionists of en plein air was Claude Monet, both an artist and dedicated gardener. Monet welcomed fellow artists into his garden at Giverny where he executed his remarkable canvases. As Hill relates, what drew American artists to this garden were the qualities of "intimacy, privacy, and immersion." She develops this theme throughout her brief introduction to the catalog's marvelous collection of images.
— Marilyn K. Alaimo, garden writer and volunteer, Chicago Botanic Garden