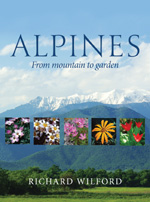 Publisher:
Royal Botanic Gardens, Kew
decorated boards, 244 pp., $48.00
Rare jewels of the mountaintops and tundra, alpine plants grow in challenging environments around the world. Richard Wilford examines these plants that have attracted explorers to search for them under these rugged conditions. He tells of the growers who brought the migrants into flower and the artists who skillfully recorded their charm. Attracting gardeners with their unique beauty, alpines today are familiar plants in the garden. The book is divided into the eight geographical regions where they may be found under extremes of climate in the wild. An expert in alpines and bulbs, the author employs stunning plant portraits to accompany the descriptions and intriguing histories of selected plants. Its fascinating text, graphic design, and gorgeous illustrations make this an outstanding book.
— Marilyn K. Alaimo, garden writer and volunteer, Chicago Botanic Garden