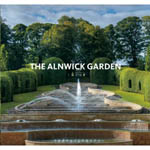 paper, 48 pp., $10.95
This garden was opened to the public in 2001, and is operated by the Alnwick Trust. The garden is located at the site of Alnwick Castle; it was initiated in 1750 by the Percy family who received the title in the eighteenth century. The garden was at its grandest at the end of the nineteenth century with topiaries and floral displays. In 1942, during World War II, the garden became an allotment garden (a garden for non-commercial, individual use), ending its alternative state as a tree nursery. In 1996, the Duchess of Northumberland made a decision to restore the site and make a "garden with a difference." It has been a great success, to say the least.
The garden centerpiece is a Grand Cascade, a waterfall with water displays, and a famous hornbeam hedge, many contemporary gardens, a tree house, and changing seasonal displays. In 2011, there were more than 800,000 visitors with family programs and events, a visitor's center and volunteers. This souvenir book shows off the garden with just enough text and photographs. It is small and lightweight enough to carry around the garden. However, it lacks a map.
— Adele Kleine, volunteer, Chicago Botanic Garden