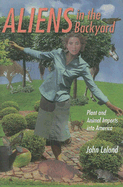 Publisher:
University of South Carolina Press
cloth, 235 p., $29.95
Challenging the beliefs of patriotic conservationists, author John Leland investigates the truth behind the native origins of plants and animals that are commonly thought to be an essential part of the American environment. As he points out, ever since man and his dog first crossed the Bering Sea to settle on the Continent, there have been continuous changes to the environment, making the definition of "native" problematic.
Leland is a marvelous storyteller. Besides debunking the myths of American origins, he relates how people have played a role in plant and animal migrations, both unwittingly and otherwise. Based on extensive research, he discusses the history of importation from colonial to contemporary times. This makes for some fascinating reading as he covers subjects as diverse as slavery and the effects of globalization on the American environment. His writing has an air of immediacy with such topics as bioterror as a colonial weapon of war. All who appreciate nature will be captivated by the stories of survival in this highly recommended book.
— Marilyn K. Alaimo, garden writer and volunteer, Chicago Botanic Garden