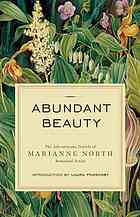 Paper, 218 pp., $19.95
Marianne North was the Victorian 'Wonder Woman.' Beginning in 1871, for 15 years after her father's death, she traveled alone, visiting continents, staying with friends, using every possible type of transportation — steamer, rowboat, horseback, rickshaw, and donkey — to examine indigenous plants in their natural settings or in botanic gardens. She created paintings of many plants that she viewed on her travels. Marianne seemed to have supernatural strength to overcome the hardships of travel.
North visited every continent in the course of her travels, crossing into the United States from Quebec by rail en route to Japan. Some 800 paintings by North make up the Marianne North Gallery at the Royal Botanical Gardens at Kew. This work provides a condensed version of North's engaging memoirs in one slim volume.
— Adele Kleine, volunteer and Master Gardener, Chicago Botanic Garden and writer, 
Chicagoland Gardening magazine