Saturday, February 24, 2018
9 a.m. – 3 p.m.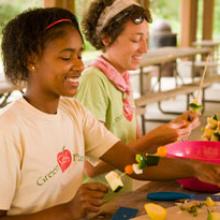 Are you interested in learning more about how to work with youth in an urban agriculture or school garden setting? Would you like to know more about structuring a youth development program centered on sustainable agriculture and food systems during the summer or school year? Please join the Windy City Harvest Youth Farm staff for a day of focused learning, as we share the program's 14-year history, lessons learned, and challenges faced.
The day's program will include:
Information on how to structure an urban agriculture/youth development program
Overview of available curriculum and how to implement it
Planning and programming meaningful field trips
How to foster a safe environment in which students of all abilities can grow, including implementing team-building activities, setting shared standards, providing student evaluations and feedback, and celebrating successes!
Questions? Please contact Audrey Brinkers at abrinkers@chicagobotanic.org.
Plant Science Center
Chicago Botanic Garden