March 10 – May 19, 2018
Saturdays, 9 a.m. – 12 p.m.
(No class on Saturday, March 31)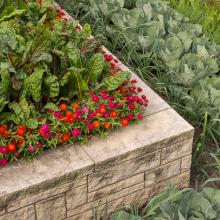 This course is intended for aspiring urban agriculture entrepreneurs and individuals who are interested in learning best practice edible landscaping techniques. The course has been designed for individuals who already have a firm foundation in sustainable urban growing techniques. This course will combine classroom and hands-on work to prepare students to effectively utilize edible landscaping in their existing urban agricultural projects and for potential expansion opportunities. This course is a technical training course. It will involve farm work activities in all weather conditions. Students are expected to be prepared to work indoors and outdoors throughout the duration of the course.
Topics and activities will include but are not limited to:
Edible plant materials including shrubs, perennials, vines, bulbs, and annuals
Design principles including taking your garden plan off the page, creating a base map, reading a plat map
Ornamental edible plant maintenance including different soils for different situations (containers, rooftops, etc.)
Growing for chefs
Container planting (selection, placement, design, and some construction)
Kitchen gardening (potager, square foot gardening, etc.)
Vertical and rooftop gardening
Permaculture principles
Students will create a four-season planting plan for an existing farm site. Guest speakers and activities designed to support the creation of this design will be incorporated into lessons. The final project is presenting a planting design. 

Arturo Velasquez Institute, 2800 S. Western Avenue, Chicago, IL 
(Please enter the south parking lot at 31st Street)