Monday, October 1, 2018, 9 a.m. – noon
Saturday, October 13, 2018, 9 a.m. – noon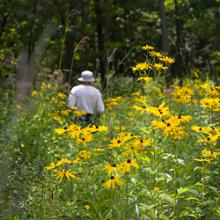 New! Shinrin-yoku, which means forest bathing in Japanese, refers to the practice of immersing or bathing all of your senses in the healing forest. Shinrin-yoku has been shown to reduce stress hormones and to increase immune functioning. This is an opportunity to slow down in mind and body. Connect with the forest life around you through mindful activities during a gentle walk, typically covering less than a mile, and ending with a simple tea ceremony utilizing native plants.​​ Dress for the weather.
Sally Peterson, certified nature and forest therapy guide
Meet at McDonald Woods Shelter