Friday, August 28, 2020
Friday, September 4, 2020
Friday, September 11, 2020
Friday, September 25, 2020
Friday, October 2, 2020
9:30 – 10:30 a.m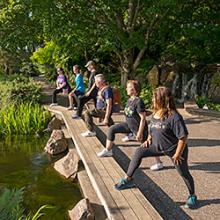 New! Looking for more flexibility? This single session option allows you to pick and choose which dates you attend. Kick up your heels with SALSArobics®. Get fit moving through the Garden and learning footwork to traditional sounds from Latin America. Practice indoors and outdoors with varying activities designed to strengthen and condition your whole body at your own pace. Suitable for all fitness levels. Wear comfortable clothing and shoes. Dress for the weather. You must register for each individual session you attend.
Esther Gutiérrez-Sloan, certified personal trainer, SALSArobics®, Inc.
Classroom 2, Learning Center