8 Mondays, July 8 – August 26, 2019
9 – 10 a.m., 10:30 – 11:30 a.m., or 5:30 – 6:30 p.m.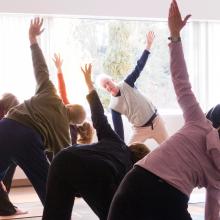 Gentle yoga is less strenuous than other yoga forms, and is ideal for those who seek restorative practice without physical strain. Move through a series of yoga poses and breathing exercises designed and adapted for you to experience tranquil relaxation. All are welcome. Come and enjoy a sense of peace and balance.
Steve Nakon and Patricia Nakon, Whole Journey
Classroom 2, Learning Center