6 Tuesdays, January 8 – February 12, 2019, 9:30 – 10:30 a.m.
or 6 Tuesdays, March 12 – April 16, 2019, 9:30 – 10:30 a.m.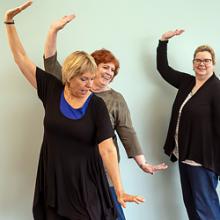 New! Energy medicine is an exciting "new" development in self-care, although its roots are ancient. It builds on Western science while drawing heavily from Eastern disciplines such as acupuncture, yoga, and qi gong. Energy medicine empowers you to work with your body's electromagnetic and subtle energies to improve how you feel and how healthy you stay. Learn simple Eden Energy Medicine exercises including techniques for stress relief, protection, clearing unwanted energies, boosting your immune system, and more. Exercises can be modified for limited mobility.
Devi Stern, M.S., energy healer, and author of Energy Healing with the Kabbalah, Integrating Ancient Jewish Mysticism with Modern Energetic Practices
Classroom 1, Learning Center