2 Saturdays, February 6 – 13, 2021, 10 a.m. – noon
or
2 Saturdays, April 10 – 17, 2021, 10 a.m. – noon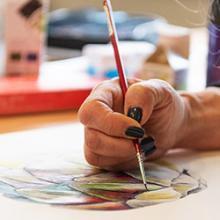 New! Practice drawing and color techniques as a form of meditation. Slow down the art-making process, creating a peaceful and healing experience. Use intuition to connect to natural, creative forces. Through this meditative practice, enjoy calming, observational drawing of plants or flowers from your own home. Explore using tone and color to create a serene mood with watercolor markers on paper. A supply list will be sent.
This class will be taught online via Zoom. All registrations must be submitted online two days before your class starts. Registered students will receive login instructions one day in advance.

Janet Trierweiller, visual artist, reiki master, feng shui practitioner