Tuesday, December 1, 2020, 10 a.m. – noon or 6 – 8 p.m.
Tuesday, December 8, 2020, 10 a.m. – noon or 6 – 8 p.m.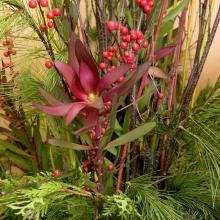 Explore winter containers at the Garden and learn ways to extend your own into the winter season. Then prepare a container with fresh-cut evergreen boughs and berried or brightly colored branches. Material pick-up for your class will be at the Garden on Sunday, November 29, between 9 a.m. and noon, and further details will be provided.
This class will be taught online via Zoom. All registrations must be submitted online two days before your class starts. Registered students will receive login instructions one day in advance.