7 Tuesdays, May 8 – June 19, 2018, 6:30 – 8:30 p.m.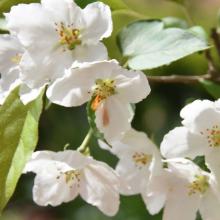 Small flowering trees are a critical component of nearly every garden and landscape. This course covers approximately 40 genera and many more species and cultivars that thrive in our region. Identification, cultural information, aesthetic qualities, and landscape uses will be emphasized. After completing this course, you will be able to select appropriate trees to add interest and depth to your garden and landscape projects.
OPC, PGL 1, PGL 2, GDC requirement
Mark Zampardo, Ph.D., horticulture educator, Chicago Botanic Garden
Classroom 1, Learning Center
Also includes Saturday Garden Walk
Meet at Visitor Center
6 Saturdays, May 12 – June 16, 2018, 9 – 11 a.m.
Optional Study CD  $20