Saturday, November 14, 2020, noon – 2 p.m.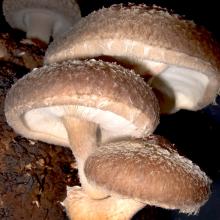 Shiitake Mushroom Cultivation Workshop
The shiitake is an edible mushroom native to East Asia that is used in many dishes across the world. Explore the history and various methods of shiitake mushroom cultivation. You will create and leave with your own inoculated oak log that will produce shiitake mushrooms for years to come.
Moira O'Keefe, wild mushroom expert
Plant Science Lab, Regenstein Center