Wednesday, September 22, 2021, 6 – 8 p.m.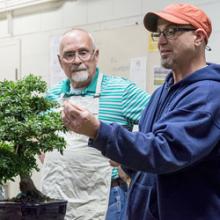 Learn the necessary steps to prepare your bonsai trees for the fall and winter seasons. Proper feeding, pruning, and winter storage options for both temperate and tropical bonsai will be covered.
This class will be taught online via Zoom. All registrations must be submitted online two days before your class starts. Registered students will receive login instructions one day in advance.
Chris Baker, curator of bonsai, Chicago Botanic Garden