7 Tuesdays, March 20 – May 1, 2018, 6:30 – 8:30 p.m.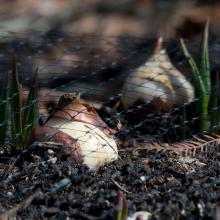 Explore the many bulbs that brighten the spring, summer, and fall garden. You will learn to identify more than 60 hardy bulbs, corms, and tubers. Bloom sequences, cultural requirements, and bulb selection will also be discussed. After completing this course, you will have the confidence and knowledge to use a wide variety of bulbs to enhance your clients' gardens or your own.
OPC, PGL 1, PGL 2, GDC requirement
Also includes Saturday Garden Walk
Meet at Visitor Center
6 Saturdays March 24 – April 28, 2018, 9 – 11 a.m.
Jill Selinger, manager, adult education, Chicago Botanic Garden; and William Moss, horticulture educator
Classroom 1, Learning Center
Optional Study CD $20