3 Saturdays, July 11 – 25, 2020, 2 – 5 p.m.
3 Saturdays, August 1 –15, 2020, 2 – 5 p.m.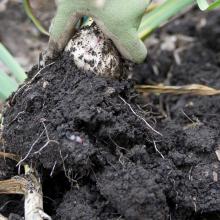 Online and Onsite Hybrid Course
Learn tips and techniques used by professional gardeners through a combination of lecture and hands-on activities. Acquire solid gardening skills, learn a variety of techniques, and determine best management practices in the field of horticulture. Gain applicable skills in plant selection, spring assessment and planning, spring perennials and annuals, soil preparation, pruning shrubs and hedges, and control of spring weeds. Dress for the weather. A supply list will be sent. All registrations must be submitted online two days before your class starts.
PGL 1, PGL 2, GDC requirement

William Moss, horticulture educator

The first three class sessions will be taught online via Zoom. Registered participants will receive login instructions 24 hours in advance.
3 Saturdays, July 11 – 25, 2020, 2 – 5 p.m. (online)
3 Saturdays, August 1 –15, 2020, 2 – 5 p.m. (Classroom 4)