Online: 6 Mondays, October 4 – November 8, 2021, 6 – 7 p.m.
On-site: 6 Saturdays, October 9 – November 13, 2021, 10:30 a.m. – 12:30 p.m.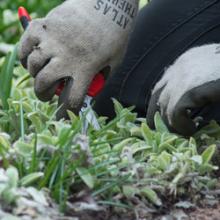 Online and On-site Hybrid
Learn tips and techniques used by professional gardeners through a combination of lecture and hands-on activities. Acquire solid gardening skills and determine best management practices. Discover fall planting techniques, bulbs, turf care, plant wildlife protection, garden maintenance, and winterization. Dress for the weather, as all on-site sessions will be held primarily outside. A supply list will be sent.
PGL 1, PGL 2, and GDC requirement
Monday class sessions will be taught online via Zoom and Saturday sessions will be held at the Garden. All registrations must be submitted online two days before your class starts. Registered students will receive login instructions one day in advance.
KaMele Sanchez, horticulturist, Greenwise Organic Lawn Care
Online (Mondays) and Classroom 5, Learning Center (Saturdays)